12 Oct

ADOPTED LANDSCAPES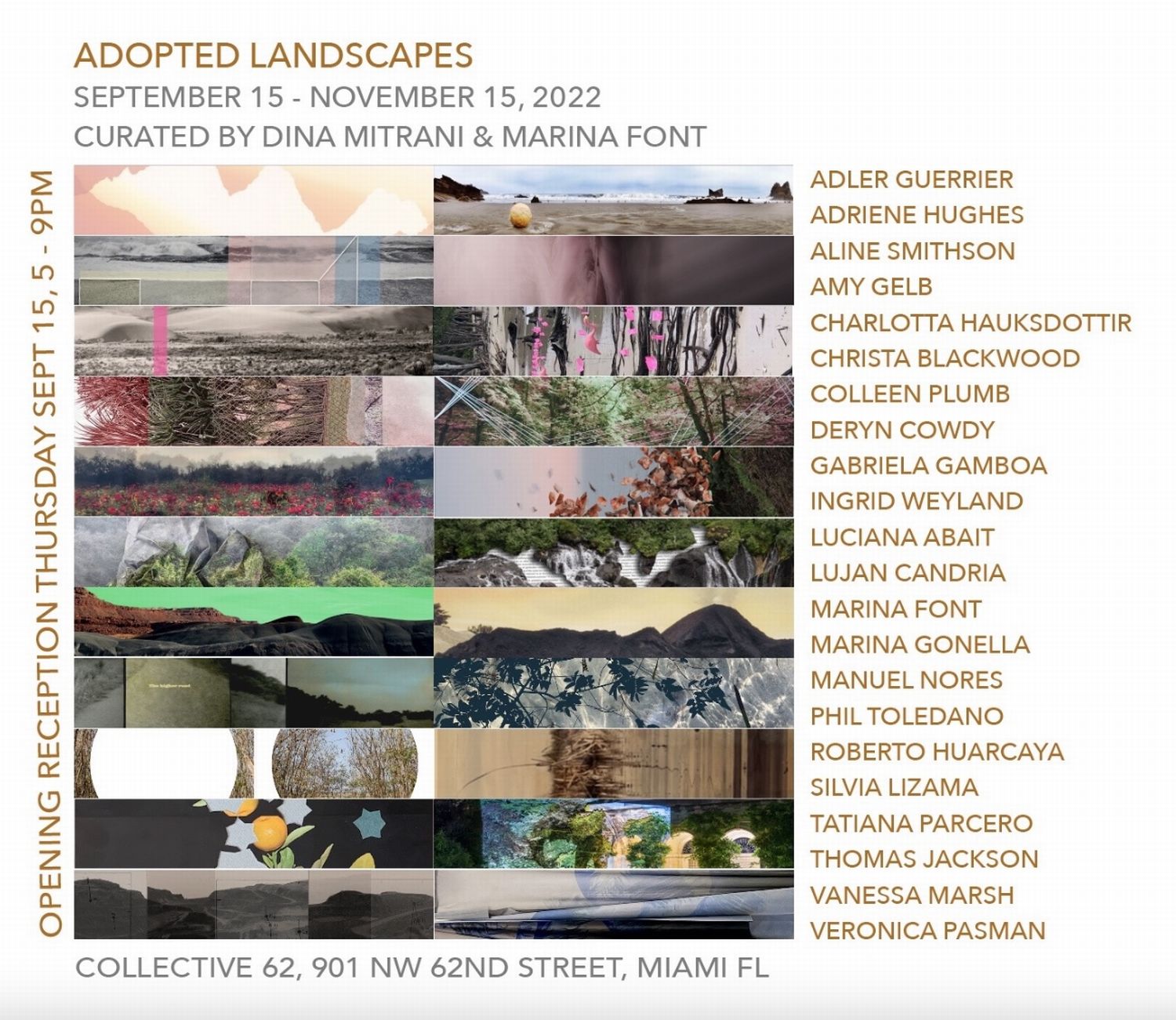 ADOPTED LANDSCAPES
September 15 – November 15, 2022
Opening reception: Thursday, September 15, 5 – 9 pm
Collective 62, 901 NW 62nd Street, Miami, FL 33150
Adler Guerrier
Adriene Hughes
Aline Smithson
Amy Gelb
Charlotta Hauksdottir
Christa Blackwood
Colleen Plumb
Deryn Cowdy
Gabriela Gamboa
Ingrid Weyland
Luciana Abait
Lujan Candria
Marina Font
Marina Gonella
Manuel Nores
Phil Toledano
Roberto Huarcaya
Silvia Lizama
Tatiana Parcero
Thomas Jackson
Vanessa Marsh
Veronica Pasman
Collective 62 is pleased to present Adopted Landscapes, curated by Dina Mitrani and Marina Font. The 22 photo-based artists in this exhibition push the boundaries of the photographic landscape, each with their own unique approach. Opening Thursday, September 15, 5 – 9 pm, this show will be on view at the Collective 62 exhibition space through November 15, 2022.
In the history of art, the landscape has been one of the most explored subjects of representation.
Adopted Landscapes brings together contemporary works of photography-based art that depict the landscape as a departure point for unique conceptual and narrative works. Disinterested in the photographic landscape as a conclusion, these works offer answers to the question: How does the traditional photographic landscape serve multidisciplinary artists today?
Combining mediums as well as interlacing techniques, the artists build upon the formal qualities of the genre. In some cases, the landscape is transformed before the camera captures the image. In others, the image undergoes digital manipulation; while in many of the works, the printed image is the base layer where multimedia elements are manually applied to the surface. Each artist offers a different vantage point, but their intentions are similar: to transmute the pure retinal experience of capturing nature and re-interpreting it in a way that is connected with the human experience.
These works inspire us to contemplate the ever-changing, ancient relationship between person and place. They suggest a range of themes including climate change, erasure, nostalgia, and in some cases, a sense of displacement. Through innovative experimentation, each artist inspires different ways of seeing, making us more aware of our roles and responsibilities in this dynamic world we all share.
The Collective 62 Art Studios, founded by Nina Surel, is an independent art space devoted to creation outside of the traditional circuits of art. Located in Liberty City, Collective 62 also seeks to reverse the growing phenomenon of gentrification through regeneration that derives from creation and community-based workshops.
Dina Mitrani opened her gallery in Wynwood in 2008 specializing in international contemporary photography. She has been working in the art world for 30 years, spending the first years of her career in New York, after studying art history at the University of Michigan. Back in Miami in 2002, together with her sister Rhonda, they were pioneers in the creation of the Wynwood Art District by organically converting their parent's clothing factory into art galleries and studios for artists, designers, and architects. They are currently designing and building a center for photography, film and video art in Little River which will open in early 2024. Dina has served as a board member of the Photography Center of the History Miami Museum and the Miami Art Dealers Association. She has juried numerous photo competitions and served as a reviewer at national photography festivals such as Photolucida Portland, FotoFest in Houston, the Palm Springs Photo Festival, Atlanta Celebrates Photography and the Miami Street Photography Festival.
Marina Font was born in Argentina in 1970. She studied design at the Martin Malharro School of Visual Arts, Mar del Plata, Argentina. In the summer of 1998, she studied photography at the Speos Ecole de la Photographie, Paris. She earned an MFA in photography from Barry University, Miami in 2009. She has exhibited extensively at galleries, museums and cultural institution in the US and abroad and is represented by Dina Mitrani Gallery, Miami. She is a multidisciplinary artist working in photography, mixed media, installation and video. Her studio practice explores ideas about identity, gender, territory, language, memory and the forces of the unconscious. Her visceral and intuitive works, strongly influenced by psychoanalysis, often focuses on women and the domestic sphere. She is currently a resident of Collective 62 Art Studios.
For more information, please contact
[email protected]